Disabled war veterans from all over the former Yugoslavia come together to play at volleyball tournaments – but that doesn't mean they're getting any closer to post-conflict reconciliation.
By Barbara Matejcic from Banja Luka
Croatian version
Adem Maksumic is a Bosniak from Mostar. He lost his leg during the war in Bosnia. When his girlfriend, who is Croat, came to visit him for the first time after the amputation in hospital, he moved the sheet aside and told her: "Look at this, and go home. It will be hard for me to deal with this and you should go, live your life."
They got married a year later, in July 1993, at the height of the conflict between Croats and Bosniaks in Mostar.
Adem came to terms with his loss. He had a souvenir shop next to the Mostar bridge, he had a devoted family and he was playing sport.
I learned from him about sports tournaments for the disabled, in which war veterans from Bosnia, Croatia and Serbia competed. I knew that I had to go to one of those tournaments.
I thought it could be a story of reconciliation between people who once fought each other, but years later were gathering in the same sporting arena, with the consequences of the war.
But as soon as I arrived in Banja Luka last November for the 12th International Sitting Volleyball Tournament, all my illusions were immediately shattered: "This ain't no brotherhood and unity," said Novak Grbic, the president of the Banja Luka Volleyball Club for the Disabled, gesturing 'no' with his hand to emphasise that this was not an attempt to revive the old Yugoslav motto of pan-ethnic unity.
Grbic explained: "I am for reconciliation, in the way that we should be neighbours and not quarrel over borders, that everybody lives in their own yard and does not throw garbage, but I am not for 'brotherhood and unity'. That is fictional, an empty story, and if we were honest during the Yugoslav period, the war would never have happened."
Grbic's club organised this friendly tournament with three other organisations – the 'Hrabri' ('Braves') Sport Association of the Disabled from Zagreb, the 'Zavidovici' Volleyball Club for the Disabled from Bosnia and Herzegovina and the 'Feniks' ('Phoenix') Sitting Volleyball Club from Kikinda in Vojvodina, Serbia. The Banja Luka tournament is held annually and the teams have been coming together to play each other for years.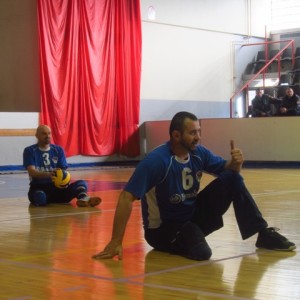 In 1993, when Grbic was 22, a mine explosion hit his left hand. He did not know about sitting volleyball until the end of the 1990s when he went for rehabilitation in Slovenia, but eventually, in 1999, his club was founded.
A year later, the Banja Luka club went to Zagreb in order to see how the 'Hrabri' were organised, than to watch Sarajevo's 'Phantoms', who have been European champions in sitting volleyball several times. Shortly after that, the regional tournaments started. They play, win or lose, celebrate, joke amongst themselves, but Grbic said that they do not speak about the war.
"Some serious discussion is pointless, everyone has his own stance and we will not change them. I am not a chauvinist, but I am nationalist and I always will be, in the sense that I defend my own identity," he explained.
"We did not just slap the Muslims and the Croats while they did nothing, it wasn't like that. But the Serbs are always perceived as the only perpetrators so it's better not to talk about it; it's the past," he said.
But I came to Banja Luka because I wanted to talk. Not about the war, but about how those that were in the war and suffered now look at the past and at each other. Many war veterans have never visited the country that they were fighting against, let alone met former enemy soldiers.
Veterans who play sitting volleyball were connected by the sport, and without it they would probably never have met again.
But according to Enes Nuhic from Sisak in Croatia, who was wounded by a landmine in 1992 at the age of 23 while trying to save his comrade who was injured in a minefield, "it is not that simple".
"It wasn't easy for me when I first played in Banja Luka with people I might have fought. I thought about whether I was going to recognize someone," Nuhic said.
"It was not easy for me to go to Belgrade either. I did not know if I was on some list, how it was going to be, but the sport is stronger than the fear and with time you stop thinking of it; those are teams, it is same as they were Hungarians. You cannot play if you are full of hatred and if you think of those players as enemies. But there are veterans from Croatia who would never go and play in Belgrade," he continued.
At the tournaments, Nuhic explained, the veterans discuss everyday matters – work, pensions, prosthetics for the disabled. Some sporting friendships have been made, but no one talks about the war.
"I don't know what we would talk about, we could only come up with some topics that would create tensions and make us quarrel," he said.
The atmosphere on the court is relaxed. There is no cursing, complaining about the referee, and there are no spectators either. They all look the same on court, like people who have been unlucky at some point in their lives but managed to move on.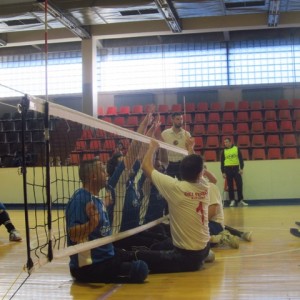 "They are all friends of mine, it's not important who is Croat, Serb, Muslim; we are people above all. We suffered because of the desires of some big hotheads, and we were there by accident," said Mujo Bosnjakovic from the Bosnian town of Zavidovici, who lost a leg when he stepped on a mine in 1994, when he was 22.
Bosnjakovic was the only one among the players who insisted that ethnicity was irrelevant and said that he hates nationalism.
During the war, Zavidovici was surrounded by the Yugoslav People's Army and the Croatian Defence Council (HVO). When asked who he was fighting when he was injured, Bosnjakovic simply replied: "An enemy." He laughed before continuing: "[I was fighting] Serbs, but I could have got hurt fighting the HVO, because I fought where I had to. I stepped on a landmine in the war, it doesn't matter who put it there," he said.
I asked him what thought about the fact that in Banja Luka, some people not see Bosnia and Herzegovina as their own country. He replied that for him, Republika Srpska is part of Bosnia and Herzegovina and that should be the case for all, but that some "big hotheads made people think differently".
But when asked if he could say that to, for instance, Novak Grbic from the Banja Luka club, he replied: "It's very hard for us to talk about this topic, I cannot change someone's conscience."
Valter Setoric from Kikinda in Serbia came to the Banja Luka tournament for the first time five years ago. He said he thought it was terribly sad when he saw people who fought each other for so many years come together peacefully: "We drank, there was music, tears… Music brought us together and we had a wonderful time," he recalled.
Setoric was drafted and sent to war in the Slavonia area of Croatia. "They picked us overnight, transferred us over the river and said 'fight', and I had to fight. What should I have done? I didn't have 5,000 Deutschmarks to avoid recruitment. I was in the mortar detail, I don't know if I hit someone or not. I have an uncle in Osijek, maybe I hit his house, how would I know?"
His war was quickly over. After 18 days, a mortar fell beyond his position and he was hit in the back.
In the evening after the tournament, music played loudly at the Golden Card motel where the players had a joint celebration. I asked if someone was keeping an eye on the music in case certain songs offended anyone.
Bosnjakovic said that they play Bosnian sevdalinkas (melancholy love songs) as well as Dalmatian and Serbian music, while members of the Hrabri team from Zagreb said they would not play songs by Croatian singer Thompson because it might offend someone.
I talked to Zoran Jesic from the Banja Luka club, who also plays for the Serbian national sitting volleyball team in sitting volleyball. He said he decided to play for Serbia because no one ever asked players from Republika Srpska to join the Bosnian national team, the world champions in sitting volleyball. He said that it would be "difficult to play for Bosnia and Herzegovina because all the players in the team are Bosniaks."
Jesic said that the key to the tournament's success was mutual respect and esteem, but then, after a pause, he added: "Each beside the other." He did not say 'beside' accidentally. He meant each beside the other, not everyone with each other. He explained: "Look at it realistically: we do not play with them, we play against them."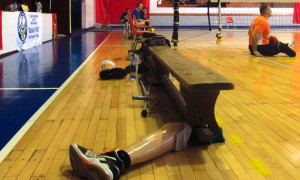 By then it was already clear to me that tournaments that bring war veterans together are not a story about reconciliation or an open conversation about what happened and what they went through during the conflict – but only a story about sport.
 The article was published at Balkan Insight