Migrants trying to enter the European Union via Croatia have been illegally expelled back to Bosnia by police. Some migrants said police had beaten them up and robbed them.
By Barbara Matejčić from Zagreb, Bihać, Velika Kladuša
Croatian version
"My fellow police officers and I took part in unlawful migrant pushbacks from Zagreb to the Croatian border with Bosnia and Herzegovina, and Serbia. We would bring them to a green border and instruct them to cross back to Bosnia or Serbia. We didn't document them. We didn't allow them to seek asylum. These were the orders from our superiors at the police station", a police officer from Zagreb told us when we interviewed him in June 2019. This confirmed what international and local organisations like Amnesty International, the Human Rights Watch and Are You Syrious have been warning about for more than two and a half years: the Croatian police force is breaking Croatian and international laws by systematically and unlawfully carrying out pushbacks and collective expulsions of asylum seekers to neighbouring Bosnia-Herzegovina and Serbia.
While a member of the European Union, Croatia is not a Schengen area country, but is eager to demonstrate its readiness to join the border-free area in 2020 by decisively protecting the EU's external borders from irregular migration. As Hungary erected impenetrable fences along its borders with Serbia and Croatia in 2015, refugees forged a new route to Western Europe – through Bosnia and Herzegovina and Croatia. The two countries share a 950 km long border, much of it on the so-called "green area" outside of official crossings.
Despite hundreds of testimonials by refugees who were themselves illegally sent back to Bosnia and Serbia, despite video evidence gathered by non-government organisations and media, despite claims by inhabitants of Bosnia and Herzegovina who witnessed Croatian police forces sending back refugees, the Croatian Ministry of the Interior denies all allegations. Croatian Minister of the Interior, Davor Božinović, said that migrants often "falsely accuse" police officers and that the Croatian police has acted within the bounds of the national and EU law. He also claims there are no cases of pushbacks or collective returns, rather, it is a case of legal "refusal of entry" at the very border. But this is the first time that sources within the police force confirmed the collective returns of asylum seekers from Zagreb, far away from the Croatian border. The officer in question has been in the service for a number of years and we've agreed to keep his name and precinct confidential for safety purposes.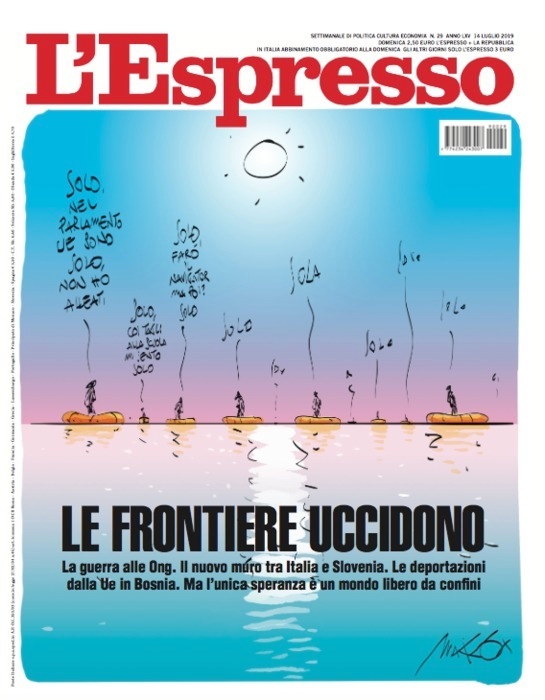 Cover story for L'Espresso
"I pushed back the first group of migrants at the beginning of 2017. At the time, I didn't know even where to take them. I got my orders from a police shift manager because you need to report back to your shift manager on all that takes place in the field. I called the chief to tell him we had a group of migrants. Citizens often called in to report groups and we would sometimes even run into them in the street. The shift manager would then tell me he would call back in 10 minutes. He then called me on my private cell where calls are not recorded to tell me to take them to the border. The migrants would say, 'asylum', we would reply, 'no asylum'. We put them in the police van where we would disable a connection to the GPS that would ordinarily broadcast the van's position continuously, so no one would know where we were. We would conduct a search, naturally – without warrants, to see which country they came from or they would tell us themselves. Then we would take them away without any documented procedure. It was as if we never found them nor brought them to the border", our source describes the process of illegal pushbacks.
He didn't know at the beginning that such treatment was illegal. "When the first wave of migrants arrived in 2015, the arrivals were organised and we were given guidelines on how to proceed. When they started arriving illegally, no one would give us a procedure. It was only after we had to process them, because we didn't all of them automatically push back to the border, that we started to study the laws online to see what needs to be done. We self-educated ourselves and realised what we did and how we did it was not lawful."
Such acts not only violate the refugees' right to seek international protection, they violate the European Convention for Human Rights, which prohibits collective expulsions. Deportations must only be done individually and in collaboration with the police force of the country where a person is being deported to. Our source has never informed neither the Bosnian nor the Serbian police; he simply brought people to the green border and push them across. There is no written account of these procedures.
Not all who were found were pushed back. If there were women and children; or if a more citizens reported to have seen the migrants because such reports were recorded; or if they were found in the middle of the day when there was the possibility of someone photographing the police taking them away which could possibly lead to questions arising regarding their whereabouts – this is when things were done by the book. They would be taken to the station, they would go through the process of identification, they would be photographed, their finger prints would be taken and they would be sent to the Porin – the Shelter for asylum seekers in Zagreb where they would stay until a decision on whether they were granted asylum or not was made. Furthermore, not all police shift managers ordered illegal pushbacks, and not all officers accepted these orders: "There were officers who refused such orders and were punished by facility protection. They secured a building for six months and got significantly lesser salary. After that happened to them, no one refused to push migrants back to the border anymore. According to the rule book, we must refuse an illegal order and take it up with this officer's superiors. But you have no one to report to because all the orders were coming from the higher-ups you were supposed to address in case of rule violations. We all knew the police shift managers were getting orders from their superiors. It was common secret. That is the hierarchy within the Ministry of the Interior. You have a police station commissioner with three deputies; it's not like the shift manager came up with this on their own." All commands were oral and our source never saw a written order. He never received orders to use force or destroy migrants' property, as many migrants reported about. "Different stories were heard, but I personally never received such orders and have never witnessed any of the officers beating migrants."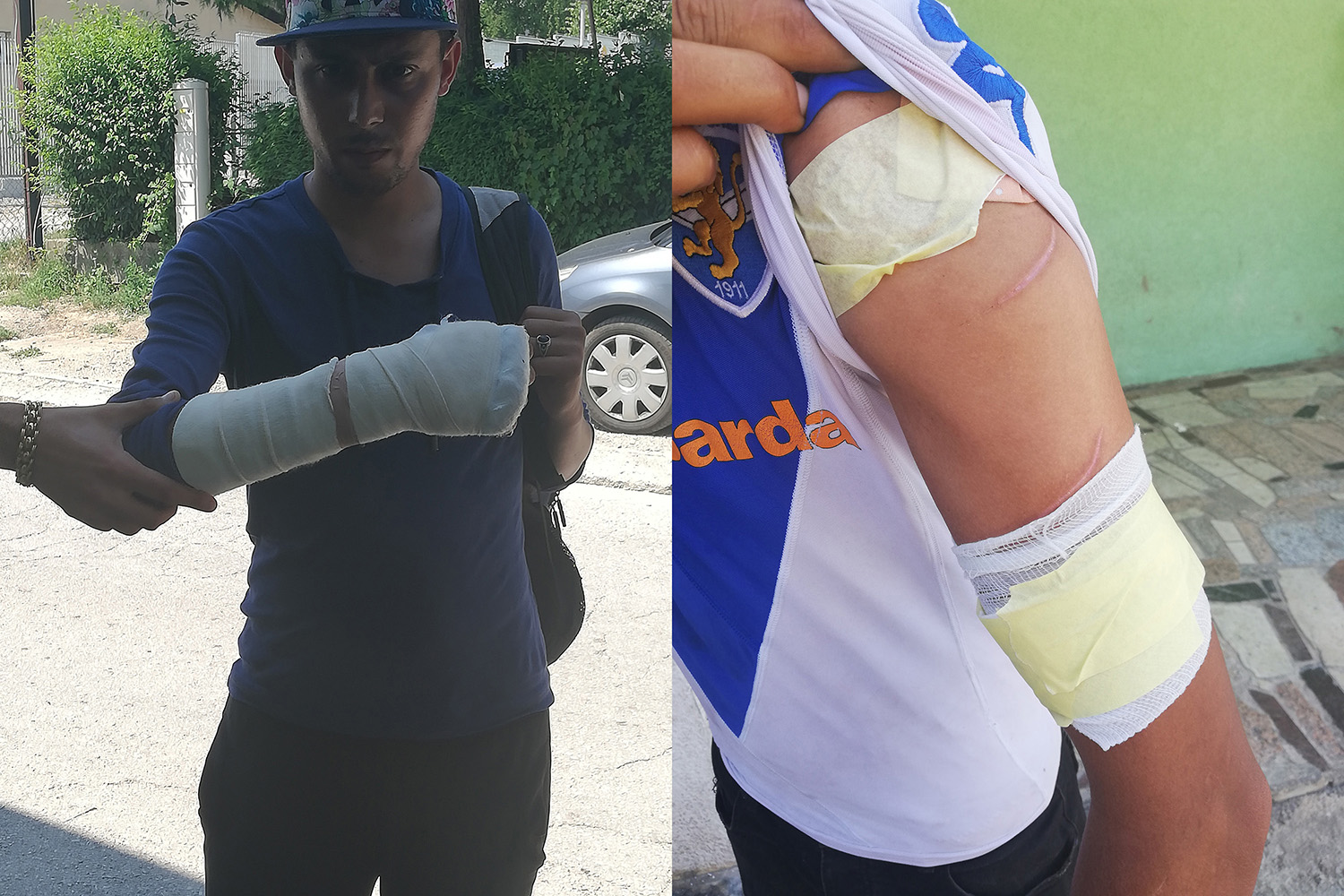 Migrants in Velika Kladuša showing fresh injuries done by Croatian police, as they said
He pushed two groups back to Bosnia and Herzegovina and one back to Serbia. Each time, the groups consisted of younger men. Once there were nine of them in the van and twice there were fourteen. In accordance with the law, only six persons at a time can ride in the back of a police van. And even though three returns don't seem like a frequent occurrence, the officer emphasises that this is what happened during his shifts only and that all the shifts of all the officers in all the precincts in Zagreb, during a 365 day period each year, should be taken into account in order to get to a much larger number of illegal pushbacks from the Zagreb area alone.
Why did he decide to go public, even though he could face charges and be held in jail during investigation if his identity was ever made public because, in essence, he committed a crime his superior officer would surely deny knowledge of, as he said?  "Not a single cop came up with pushing people back to the border all the way from Zagreb. Why would such a thing occur to an officer in Zagreb – to get a van and drive migrants to the border? But none of the chiefs will take responsibility if this was to come out; they would deny all knowledge and blame the low-ranking officer. This isn't true – they were ordered by their police shift manager, deputy commissioner, district commissioner, chief of police… These are the positions from which the orders trickled down. But no one will own up to it and the cops least to blame would take the fall", he explains his motives.
We asked the Croatian Ombudsperson, Lora Vidović, for a comment: "These allegations, unfortunately, only confirm what we've been saying and publishing for years now. All the while the Ministry of the Interior keeps denying all claims without arguments. Besides, the Ministry keeps pointing out that all police officers have been educated on how to properly deal with migrants and we now clearly see this is not the case." The Croatian Ombudsperson has been denied access to migrant-related information from the Ministry of the Interior, which is against the law.
Amnesty International has, in its extended research published in March 2019, also found that systemic and deliberate pushbacks and collective expulsions – sometimes accompanied with violence and intimidation – are a regular occurrence at the border between Croatia and Bosnia and Herzegovina.
Milena Zajović Milka from the Croatian NGO Are You Syrious says there were, according to their estimates, as many as 10,000 pushbacks in 2018.
North-western Bosnian towns of Bihać and Velika Kladuša, nestled at the very border with Croatia, have become a temporary refuge for some 5,500 refugees and migrants. We heard tens of similar accounts from refugees upon speaking to them in June 2019: they crossed the Croatian border, the Croatian police caught them, their cell phones were smashed so they couldn't prove where exactly they were found and what was done to them, and to make a subsequent crossing more difficult. Most were beaten by Croatian police. Many of them showed us fresh wounds and healed scars, courtesy of the Croatian police. They were pushed back to Bosnia.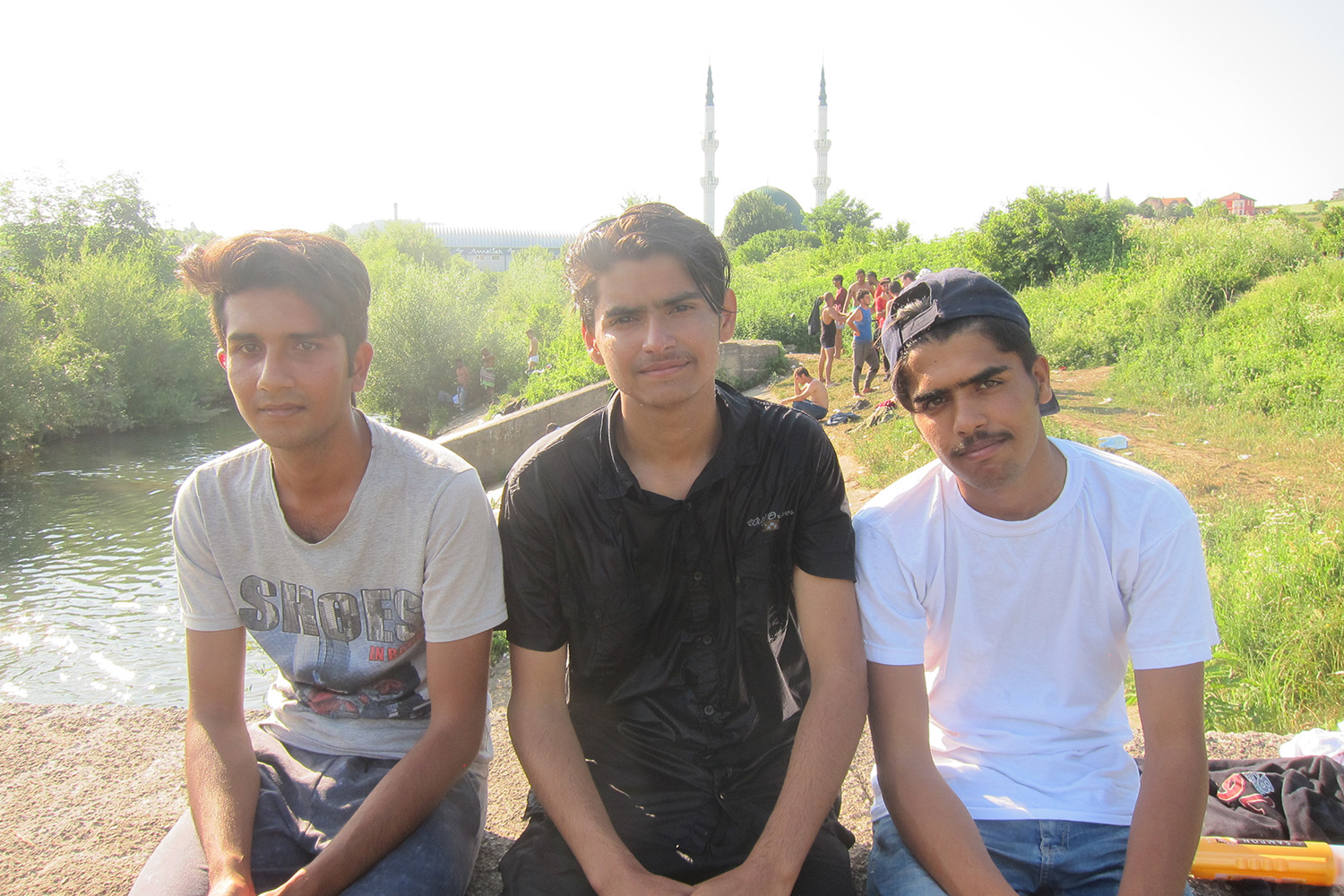 Umar (18), Rizwan (18) and Ali (19)
Umar (18), Rizwan (18) and Ali (19) are from Pakistan and were repeatedly pushed back to Bosnia by the Croatian police. They beat them with batons. They took their money. Destroyed papers issued in Bosnia. Belongings, including sleeping bags were burned. They made it to Slovenia once, but the Slovenian police released them to Croatian police which pushed them back to Bosnia. The Slovenian police didn't beat them.
"Croatian police very bad", they repeated many times.
Jelena Sesar, the author of the Amnesty International report, says they have documented numerous cases of people who have been forcibly returned from Slovenia, and even Italy, back to Bosnia and Herzegovina. "Such so-called chain pushbacks occurred in a seemingly well-organised fashion and through efficient cooperation of Italian, Slovenian and Croatian police", says Sesar.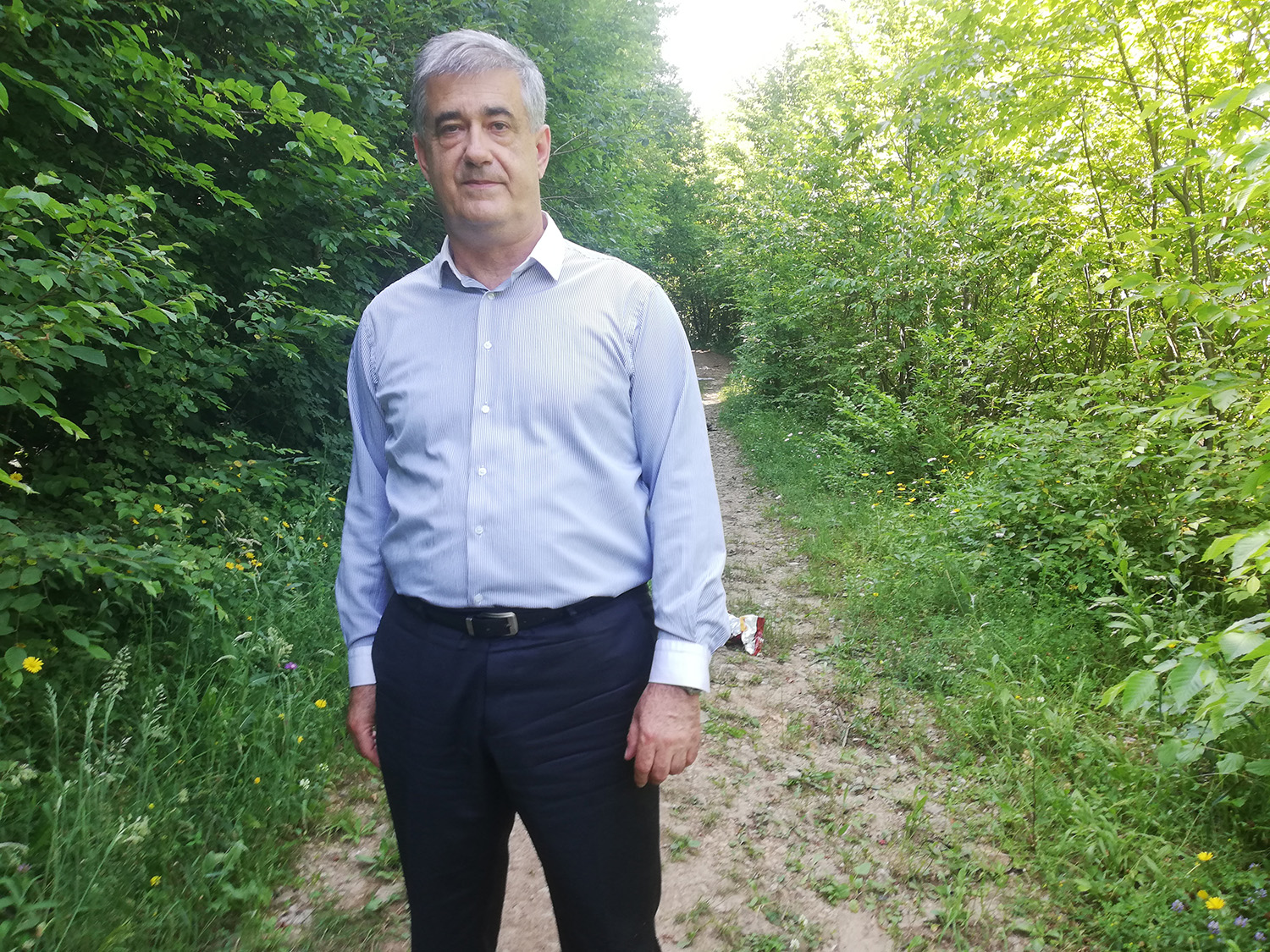 The mayor of Bihać, Šuhret Fazlić, in the vicinity of Bihać where he encountered two armed Croatian police officers accompanying a group of 30 up to 40 migrants
The mayor of Bihać, Šuhret Fazlić, is also unsatisfied with how the Croatian police force acts. We spoke in the vicinity of Bihać where he encountered two armed Croatian police officers while he was hunting in January 2019. The officers were accompanying a group of 30 up to 40 migrants. "They were about 500 meters from the Croatian border, on Bosnian soil. I introduced myself to the officers and told them they were on Bosnian territory and what they were doing was illegal. The officer shrugged his shoulders and said they were given orders." The Croatian Minister of the Interior Davor Božinović has called the mayor's claims "insinuations" and "false accusations".
It seems the Minister Božinović feels powerful and secure enough to deny all evidence of the illegal activities committed by the police force he commands. Does this mean he is supported by the EU to protect its borders – no questions asked and using all necessary means? "The European Commission has allocated over 100 Million EURO to Croatia over the past several years, significant portion of which was earmarked for border surveillance and funding the salaries of police officers and border guards. By virtue of providing the funding without holding Croatia accountable over likely violations of the EU law and by failing to publicly and resolutely call out Croatian authorities over their treatment of refugees and migrants, EU has de facto condoned this behaviour", says Sesar.
Despite our inquiries, the Croatian Ministry of Interior did not comment on the testimony given by the police officer.
The article was published at L'Espresso, De Groene Amsterdammer, Profil, MO, Neues Deutchland, Dnevnik