Some of the war criminals from the 1990s conflicts who admitted their guilt in court spoke to BIRN about why they confessed – although some say now that they only expressed remorse to get shorter sentences
By Barbara Matejčić from Mostar and Zagreb
Croatian version
"Other than Milan Babic, I don't know of any other war criminal who sincerely repented. The severity of the crime and isolation that followed his repentance clearly led to his suicide," Vesna Terselic, the head of the Zagreb-based Documenta – Centre for Dealing with the Past, told BIRN.
"There are almost no 'real' penitents at national courts. From observing trials at the ICTY [International Criminal Tribunal for the Former Yugoslavia], it can be concluded that there are very few who sincerely repented. Dragan Obrenovic and Miroslav Bralo stand out," said Natasa Kandic, founder of the Humanitarian Law Centre in Belgrade.
"I do not know any repentant war criminal I could trust," said Mirsad Tokaca, director of the Sarajevo-based Research and Documentation Centre.
Babic, Obrenovic and Bralo are three of seven dozen war criminals who have admitted their guilt over the course of hundreds of convictions of defendants from Serbia, Croatia and Bosnia and Herzegovina.
The denial of war-related responsibility remains prevalent throughout the former Yugoslavia, and some of those who have denied their guilt are treated as heroes in their home countries.
"Someone who admits to his guilt is [seen as] a traitor," said Dusko Tomic, a lawyer from Sarajevo who has defended people accused of war crimes.
"I've encouraged my clients to plead guilty, if there was a basis for that. Especially the ones with children so the burden would not be passed on. But here [in the Balkans], the children of convicted war criminals are proud of their fathers," Tomic told BIRN.
Sincere remorse or cynical strategy?
Statements of Guilt: Dragan Obrenović
Most of the guilty pleas came in trials at the International Criminal Tribunal for the Former Yugoslavia in The Hague and at courts in Bosnia and Herzegovina.
"A guilty plea is a powerful tool in revealing truth and possible reconciliation. But very little is known and spoken about whether guilty pleas exerted influence outside the courtrooms," Refik Hodzic, a transitional justice activist and a former spokesperson for the ICTY, told BIRN.
"I would say they were nullified because no one wishes to hear about the guilt of their own people," he argued.
The ICTY's judges repeatedly made a positive link between guilty pleas and reconciliation. But since guilty pleas are mostly the result of plea bargains, in which the prosecution agrees either to drop certain charges and/or to recommend a prison sentence within a particular range, the reconciliatory potential of such pleas is questionable – are the defendants' expressions of regret and remorse genuine, or simply calculated attempts to gain a reduced sentence?
None of the three repentant defendants deemed sincere by Terselic and Kandic were available for comment on what they think of their guilty pleas today.
Milan Babic committed suicide in 2006 while serving a sentence for crimes against Croatian civilians. At the ICTY, he testified against a number of Serbian officials. He said he was afraid for his family's safety because of his testimonies and repentance.
Miroslav Bralo is serving a sentence in Sweden for crimes against Bosniak civilians which he committed as a member of a Croatian Army special unit.
Dragan Obrenovic served his sentence for being a commander of Bosnian Serb forces that took part in the Srebrenica genocide. He has changed his identity and lives abroad.
In Obrenovic's trial, the ICTY's trial chamber found that the defendant's guilty plea "is indeed significant and can contribute to fulfilling the Tribunal's mandate of restoring peace and promoting reconciliation".
After Obrenovic and his comrade in crime Momir Nikolic made their guilty pleas in 2003, Emir Suljagic from Srebrenica wrote in a New York Times article that "the confessions have brought me a sense of relief I have not known since the fall of Srebrenica in 1995. They have given me the acknowledgment I have been looking for these past eight years… We Bosnian Muslims no longer have to prove we were victims."
Today, Suljagic is the director of the Potocari Memorial Centre, established in remembrance of genocide victims at Srebrenica. He told BIRN that the years that have passed since Obrenovic's confession have erased any conviction he had about guilty pleas breaking down the barriers of denial and silence over war crimes.
"This hasn't happened. Quite the contrary, denial of crime has taken on a life of its own because Serbian politics ignores the facts. Besides, outside the courtroom, no one has taken responsibility [for committing crimes] or said they were guilty," he told BIRN.
Suljagic was born and still lives in Bratunac, where some of the massacres of Bosniaks by Bosnian Serb forces took place in July 1995 after the fall of Srebrenica, and where Serbs and Bosniaks still live together.
"I have never heard anyone speak of their guilt during all these years. And many participated in the mass crimes," he said.
"When we keep quiet, we know what we're keeping quiet about and when we speak, we know what we are not speaking about. That's how we live here."
'I sleep and dream peacefully'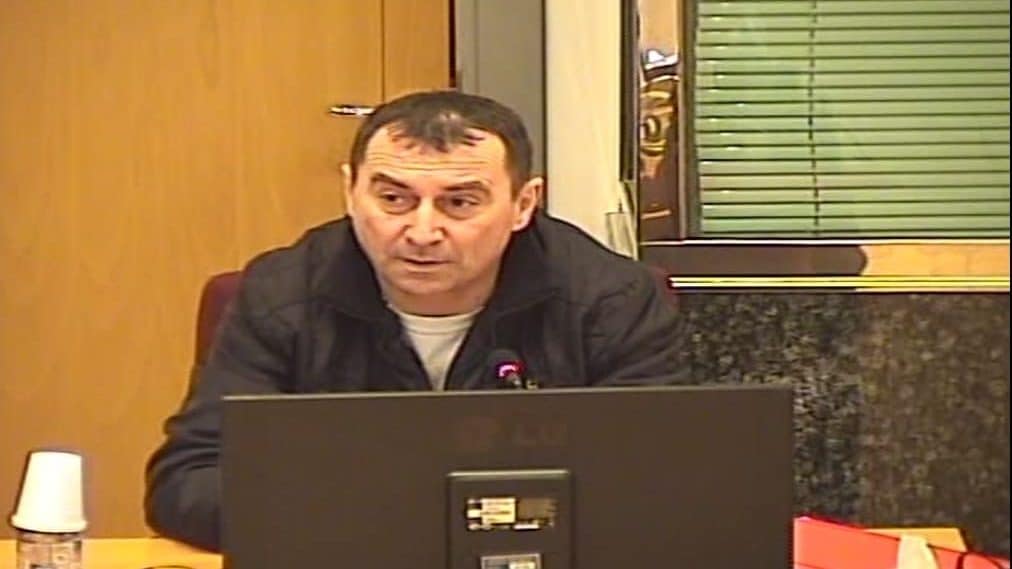 War crimes defendant Damir Ivankovic in court during his trial. Photo: Bosnian state court
Damir Ivankovic took part in the mass crimes that were committed in Bosnia's Prijedor municipality. As a member of the Bosnian Serb police force, he was involved in the murder of around 200 Bosniak and Croat civilians in the course of one day in August 1992.
After making a plea bargain at the Court of Bosnia and Herzegovina, Ivankovic testified against the rest of the defendants and spoke in great detail about the crime and his own involvement in the murders.
Ivankovic's guilty plea was very important for Edin Ramulic. Ramulic is also from Prijedor, where many atrocities happened during the war. This small town with fewer than 100,000 inhabitants has the largest number of convicted war criminals in Bosnia – almost 50.
Most of them have already served their sentences and are free. Ramulic encounters them in town sometimes. He remembers their faces well from court hearings.
It's possible that no one in Prijedor that spent more time at war crime trials than him. He had too many reasons to do so. His father and brother were killed, as were his friends, relatives and neighbours. As he put it himself, life as he knew it was destroyed.
He considers a man called Dragan Koludzija responsible for his father's death. Kolundzija pleaded guilty at the ICTY to crimes committed while he was a guard at the Keraterm detention facility near Prijedor.
"It meant a lot that he spoke of his guilt at least once during the trial, admitting that what he did was wrong. But upon serving his sentence, he denied everything on [Bosnian] Federal television," Ramulic told BIRN.
Damir Ivankovic could be a different case, Ramulic said. Even a prosecutor at Ivankovic's trial emphasised his "honest repentance and remorse" and "willingness to express regret to the victims".
Ivankovic said in court: "I wish to plead guilty to committing this crime. I was promised nothing for this confession, it all comes down to a clear conscience."
After pleading guilty, he was sentenced in 2009 to 14 years in jail. But when BIRN visited him in prison in Mostar in Bosnia and Herzegovina, he denied that he killed anyone.
"I sleep and dream peacefully. If I had fired even one bullet, I would not sleep as soundly," claimed Ivankovic.
During his trial, he described the murders of about 200 civilians and mentioned "firing a single volley". Now he said he was ordered to shoot, but refused.
People were bussed to the cliffs of mount Vlasic, made to stand on the edge of a ravine and shot. Ivankovic was sent down to finish off the survivors.
"I could not shoot at the people. I only gave a gun to one man who begged me to put him out of his misery," he stated. He said he agreed to plead guilty in return for a shorter sentence.
"The trial was a disaster. I was afraid I would get the short end of the stick if I didn't take the [plea bargain] deal. I had a small child and I wanted to get out of prison as soon as possible," he said.
His son is grown-up today. What did he tell him about why his father is in prison? "I've told him everything, he knows his father is not a murderer," Ivankovic responded.
When BIRN told Edin Ramulic about Ivankovic's denial that he actively participating in the crimes of which he was convicted, Ramulic was not surprised. Many war criminals have subsequently denied the guilt they have admitted to at court.
'I have done nothing wrong'
Statements of Guilt: Biljana Plavšić
As a political leader of the Serbs in Bosnia, Biljana Plavsic was indicted by the ICTY for genocide, crimes against humanity and war crimes. After she pleaded guilty and issued a remorseful statement, the prosecution dropped the genocide charge.
Plavsic is the only person among high-ranking officials on any side of the Yugoslav conflicts who publicly expressed regret for crimes that were committed. She was sentenced to 11 years in prison and later granted early release.
But while still in prison in 2009, Plavsic retracted her confession in an interview with the Swedish magazine Vi. She claimed to have pleaded guilty in an attempt to have the remaining charges against her dropped.
"I have done nothing wrong," she said.
While admitting her guilt to the ICTY, she stated: "The knowledge that I am responsible for such human suffering… will always be with me."
BIRN asked her about that statement in a telephone call. Does the realisation that she was responsible for such suffering still weigh on her conscience, as she said in court?
"I cannot recall that statement. It was a long time ago," Plavsic responded.
Asked directly about what her position on her guilty plea is now, she answered: "It's all fluid. I try to forget that period."
'It's easy to deny until you hear the victims'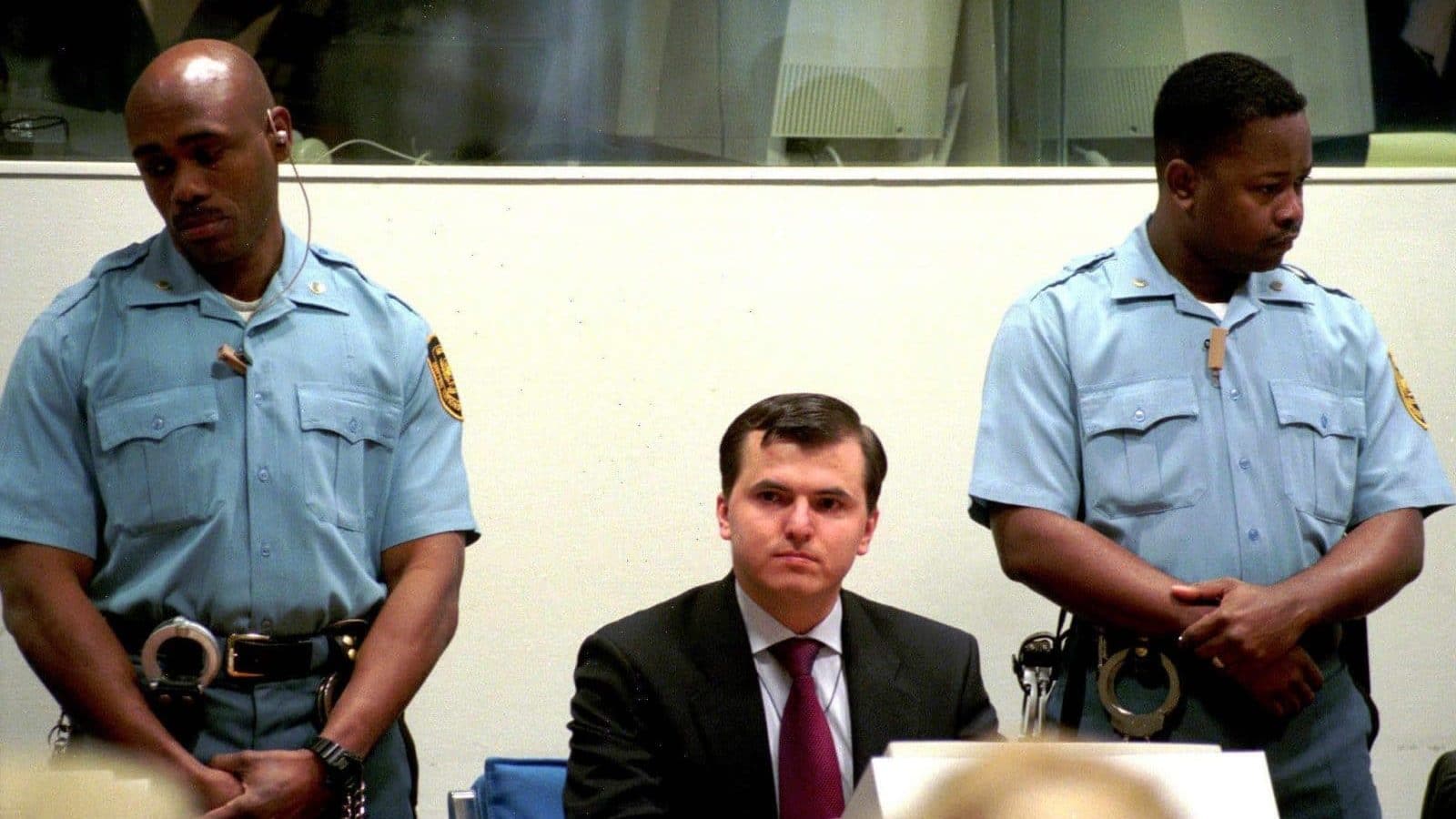 Esad Landzo listens to his guilty verdict at the Hague Tribunal in November 1998.
Esad Landzo wanted to forget, but could not. He was aware of what he did, but kept convincing himself that he was only following orders. Then he faced the witnesses in the ICTY courtroom in The Hague.
He arrived there in 1996, accused of war crimes that he committed while he was a guard at the Celebici detention camp in Bosnia and Herzegovina's Konjic municipality in 1992. He was 19 at the time.
"It's easy to deny until you hear the victims. But when you listen to them, you realise that they're speaking the truth. It was as if I awoke from a dream and realised I was living in a nightmare," Landzo told BIRN in his first longer interview for Balkan media.
This is when his insomnia started, and the voices and screams in his head. He started to see therapists while he was in The Hague and attended intensive therapy for years.
"The Tribunal saved me; it gave me a new life. I got all the help I needed there," he said about the ICTY, which gave him a 15-year sentence for torture, committing war crimes and crimes against humanity.
"The sentence was not a problem. I considered myself guilty and wanted to be punished," he recalled.
He calculated that he met at least 90 inmates over the seven years that he spent behind bars at the ICTY; he never spoke about guilt with any of them.
"Talking about the war was avoided at all costs. We knew why each of us was there, but we didn't speak of it, let alone speaking of guilt, responsibility, bad dreams," he said.
Landzo was released from prison in 2006 after serving ten years. He did his time and could have gone on to lead a quiet life, as other convicted war criminals have done, without talking about the past again publicly.
But his conscience got the better of him. He wanted to apologise to the victims.
The Danish director Lars Feldballe-Petersen produced a documentary film entitled 'The Unforgiven' about Landzo's search for his victims.
"It was important for me to see the faces of the people I've hurt and apologise. I did not expect forgiveness. The biggest gift was them accepting to meet me at all," he said.
He now lives in Finland and says his road to accepting and dealing with himself wouldn't have happened had not been convicted in The Hague and stayed in Bosnia instead.
"The community there doesn't encourage you to question your own responsibility. And I received no support for my repentance in Bosnia. Quite the contrary," Landzo said.
"But I am doing this for myself, I wanted to change, to become a better person," he continued. "But others may be going through the same process that I went through and need support."
Hundreds of thousands of people participated in the war in the former Yugoslavia. Many of them committed crimes. Some were sentenced, some were never prosecuted.
But as Lanzdo said, there surely must be others amongst them who do not sleep peacefully and "wish to wipe away a layer of dirt from themselves", as he did.
The guilty pleas in figures
The International Criminal Tribunal for the Former Yugoslavia operated from 1993 to 2017, and tried 161 people. Ninety were convicted, 20 of whom pleaded guilty.
According to the War Crimes Prosecution Office in Belgrade, 15 out of 133 defendants convicted of war crimes signed guilty pleas in Serbia. In Bosnia and Herzegovina, 33 war criminals out of 230 who were convicted pleaded guilty, although Bosnia's High Judicial and Prosecutorial Council said this data might be incomplete.
In Croatia, none of the government bodies responsible – the Ministry of Law, the State Attorney or the Supreme Court – collects such data. Out of four courts that deal with war crimes, BIRN received data from two – Osijek and Split. In the last ten years in both courts, only three people pleaded guilty.
This article was produced as part of BIRN's Balkan Transitional Justice grant scheme, supported by the European Commission